When disaster strikes, volunteers from Minnesota-Wisconsin Baptists' Disaster Relief are some of the first to deliver help, hope and healing to devastated areas. 
We organize trained volunteers to respond to disasters and meet urgent needs of hurting humanity in crisis situations with a timely response. We do this by contributing manpower, ministry, and help to victims of natural and man-made disasters.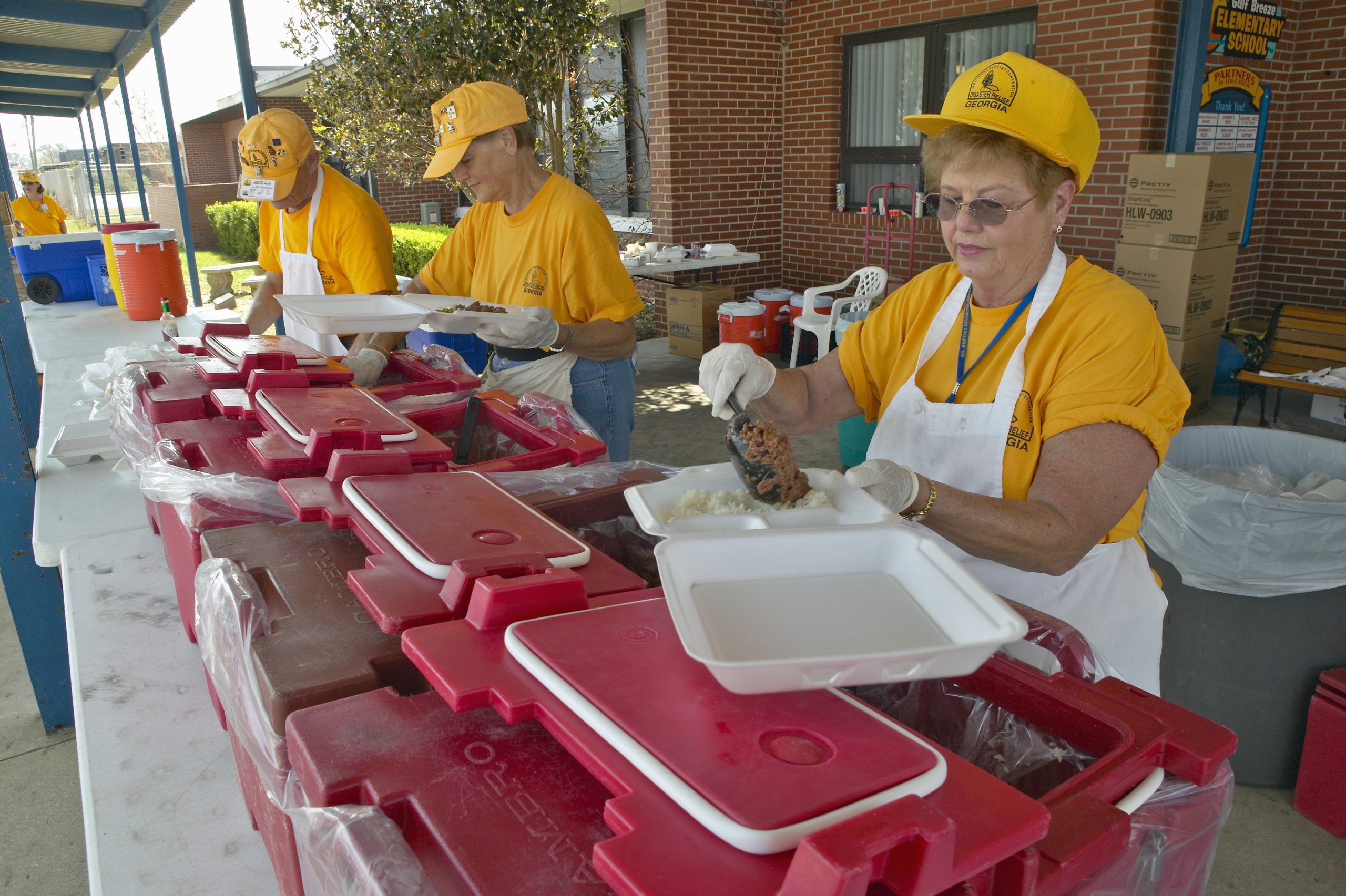 Southern Baptist Disaster Relief responds to disasters across the US and around the world. Here's what we do and how you can help meet the needs of affected people in the wake of disasters.
Provide Chaplaincy Services
Our chaplains seek to provide comfort and encouragement to the survivors and responders who are affected by a disaster by coming alongside those affected with help, hope and healing.
Manage Large Scale Relief Efforts
Our MW Disaster Relief teams works closely with other state, county, city, and ministry organizations to coordinate large scale disaster relief efforts in devastated areas.
Assess Damage
When first arriving, we assess the damage and prioritize job needs. High priority jobs include those that create an obstruction to daily living such as a tree in the house or on the roof, blocked driveway, or hindrances for special needs services.
Assist in Storm and Flood Recovery
Our storm and flood recovery efforts are supported by our mud out and chainsaw teams.  Together, they help restore areas damaged by storms and floods.
Our mud out teams responds after a flood or rising water to drain the water, cleans out and removes debris, cuts out damaged drywall and materials, and sanitizes the area to make it safe to live in.
Our chainsaw teams is made up of certified chainsaw volunteers. This team safely removes fallen trees from homes after a disaster.
Mud Out Damaged Homes
The mud out team responds after a flood or rising water to drain the water, cleans out and removes debris, cuts out damaged drywall and materials, and sanitizes the area to make it safe to live in.
Chainsaw Fallen Trees
Our chainsaw teams is made up of our certified chainsaw volunteers. This team  safely removes fallen trees from homes after a disaster.
Remove Debris
Our debris removal team removes debris caused by flooding, fallen trees, etc. from houses, driveways, and roads.
Install Temporary Roofs
Our roofing unit provides initial temporary roof repairs and installs temporary roofs as needed while ministering to those in need of shelter.
Offer Shower and Laundry Services
The shower/laundry team helps the mud out and chainsaw teams by providing portable showers and laundry facilities for the volunteers to start the day clean and ready for work.
Offer Onsite Logistical and Tactical Communications Support
Our logistical team transports, operates and maintains the disaster relief equipment.
Our tactical communication team ensures communication and technology needs of the MWBC Disaster Relief teams are met.
Assist in Incident Management Reporting
Our incident management team serves in a support role by coordinating logistics, compiling reports, tracking volunteers and disaster event information while offering compassion to those in need.
Provide Mass Care & Feeding
Our feeding ministry works hard to meet the physical and spiritual needs of those impacted by a disaster.
Distribute boxes & packing supplies
Our boxes and packing team provide boxes and packing supplies for those displaced by natural disasters.
Provide Child Care
Our qualified, trained, background-checked child care teams provide care and attention for children in the aftermath of a disaster.
Serve Warm, Nutritious Meals
We train volunteers to safely and properly prepare meals to feed our volunteers.
Provide At-Home Prayer Support
Our prayer support team is made up of prayer warriors who are not able to go to the disaster area but want to pray specifically for those affected by the disaster and for our training on-site volunteers and their work and safety while on the response.
Provide Financial Support
Our financial support team is made up of all kinds of individuals, churches, and businesses who may or may not go onsite to a disaster relief effort but desire to support the ever-important work to those affected by disasters.
While Minnesota-Wisconsin Baptist Disaster Relief is, in part, supported by the Minnesota-Wisconsin Baptist Convention, it is not nearly enough.
You may "Give Online Now" (or at anytime) below and designate your 100% tax-deductible gift specifically to funding the program itself or the staff salaries directly associated with the Disaster Relief team.  Everything you give, large or small, will be designated exclusively to our disaster relief efforts.
Why get trained? Let Coy Webb, former Kentucky Baptist Convention State Director of Disaster Relief, give you several reasons why it is important to be trained if you want to respond in a positive and effective way in times of disaster..
Frequently Asked Questions
How does it work?
1. When a disaster occurs, the MWBC Disaster Relief Director will be notified of a possible call-out for volunteers.
2. Volunteers are notified through email and asked to respond if available.
3. Unit(s) and volunteers prepare and leave for disaster site, ready to minister.
How long would I have to be gone?
Local responses—volunteers can respond for any length of time even just a single day.
When responding to an out of state disaster, most volunteers usually go for 7 to 14 days at a time. This includes travel time.
How much does it cost?
Volunteers are responsible for all their own expenses however lodging and food are usually provided on site which is noted on the callout information.
When traveling in a Disaster Relief vehicle, the gas expense is provided.
What if I can't go, but I still want to help?
You can be a part of the prayer support team that prays specifically for volunteers and their work while on the response.
Have a different Question?
Minnesota-Wisconsin Baptist Disaster Relief assists with disaster response across the country. Here's how you can help:
Pray
Pray for those in need, and for those ministering to them. Visit our news page for up to date prayer needs.
Go
Get equipped and lace up to help those in physical and spiritual need. See our Volunteer page to get started!
Give
Give to MWBC Disaster Relief. Donations are tax deductible & 100% of all gifts cover disaster relief costs.